Had a session yesterday (15/1/2011) chasing the Esox
the weather was very windy yet not 'off putting' for the first half of the day i Hadn't a sniff, so i moved to a different lake, and made base there, I had recently found that my nash Hurricane has given up so i brought a nash profile plus brolly, to keep me from the elements mother nature can throw. Very Stable even with the wind, and very spacious,
At around two o'clock i ad a young angler come talk to me, asking what i'm after etc.
soon after he left i managed to put my stove on for a brew, and as soon as i did that i had a run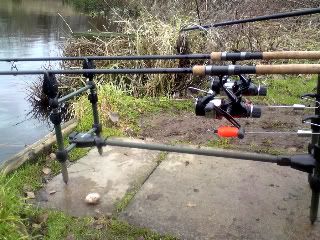 so I lift the rod off the pod and set the hooks in a nice chunky jack (possibly a low double), a couple of carpers a few pegs down emerged from their bivvies to see me playing a fish, whilst unhooking I shouted down to them and see if i can get photographed with the fish, bloody ignorant b*stards never came so i do apologise for not having a photo of the fish, but at least i caught and they didn't.
oh well maybe another time for photo's One chunky jack tempted by a lamprey section is welcome anyday.
looks like Sunday the 30th will be my first ever PAC fish-in, better get some more lamprey in
Till next Time,
Alex,