With me not having the 'up and go' with fishing recently. I told myself that I'm going on the canal.
so after a days work rain & thunder, I stated at the bottom of the canal working my way up,
despite the rain we had throughout the day, the water on the canal was clear as gin. so i opted for a 'natural' coloured lure, on that i brought from
Mark Houghton
, nothing bright and flashy,
after making quarter of the way up the canal i started too see some action..... not a biggie, but still a nice surprise.............
soon after i got back casting my adrenaline
rate was on a high, due to the fact that every cast i had done, i always has a knock and bang then a follow, yet i didn't seem to be setting the hooks, it wasn't until i had a follow by what seemed to me to be a double figure pike, as i said it only followed my lure for half a foot, then it stopped. So did I, (reeling in that is) i started to twitch the bait slightly and the fish soon had the hooks in it's mouth, with a splash and whoosh of energy the fish managed to tailwalk and shake free..........''Bugger''.
but i hadn't been put off by the loss, only encouraged, as i seem to be working the bait right.
i managed to get up the canal 20 yards before a bunch of school kids up on the road overlooking the far side of the canal shouted '' oi, oi, Mister,there is a couple of pike here, waving the finger down between a tree and bush..
as it couldn't be ignored i made my way back to give a cast.
BANG, BANG, BANG,
that's what i got on the first cast, and ti heard the lads shout that there are now three pike!!!!!!!!!!!!!
so it couldn't be ignored.........
all my focus and attention was set on the detailing every twitch of the rod to make the lure irresistible.
my adrenaline was at an all time high. my throat was lodged in my mouth,
twitch, twitch, twitch, bang, bang, bang,
i lifted the rod to set the hooks... and the young jack burst off with such speed my drag whirred leading out line......
the fish was soon enough netted.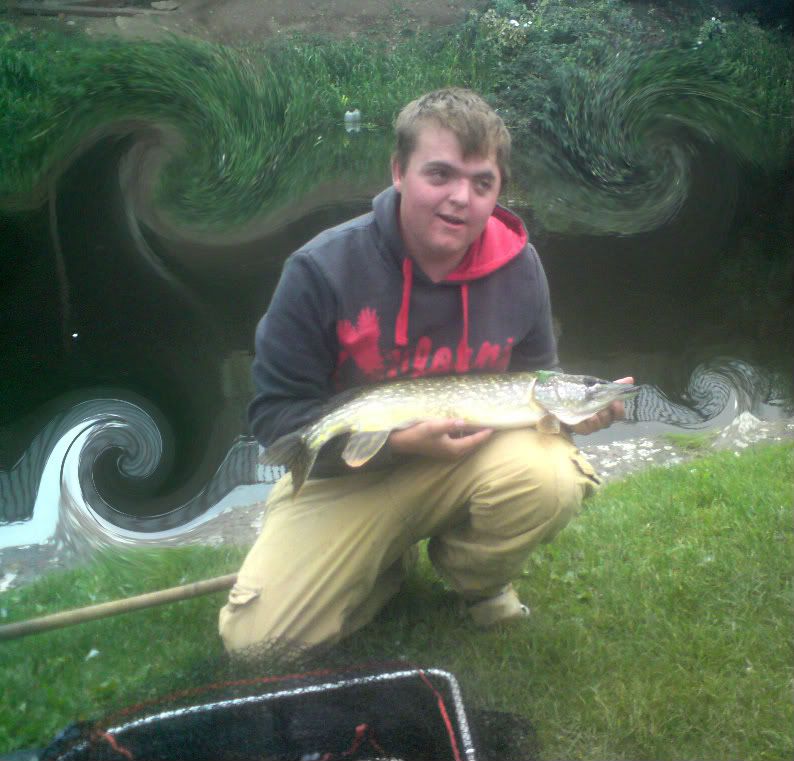 only a small jack, but i really enjoyed the evening,especially having the none stop adrenaline rush,
Alex,
Aka. MrMakk