Had a delivery today, A few lures from another forum member where a part lures part cash in exchange for my 4 small helltails, which in all honesty didn't work on the waters I fished So I'm happy to let them go to a better chance of hooking fish.
And an Okuma Calera baitcasting reel, to which i have been anchoring after for a good few weeks & with funds allowing I took the plunge.
so I now have a specific reason to do as the title of this post says, so here goes......
The specs from Okuma.......
''The Okuma Calera Baitcaster reel is a low-profile reel with four stainless steel ball bearings and a light weight construction design.
• Graphite 'Low Profile' body construction
• Graphite side plates
• 4 stainless steel ball bearings
• 1 one way roller bearing
• Aluminium machine cut lightweight spool
• External adjustable magnetic centrifugal cast control system
• Only available in left handle wind
Calera LHW: 130m 0.33mm''
Upon opening the large padded envelope I was actually surprised from the size of the box that the reel came in, very small and compact so i have a feeling this is going to be a good'un
After breakfast i decided to open her up, and inside there it was, well packaged and very secure to ensure it don't get damaged. even the plastic bag in a plus.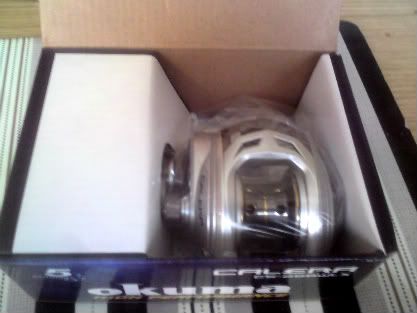 So I how have my hands shaking with excitement like a young child opening a birthday present (well we all still are eh?)
Well I must say this feels a fine piece of engineering, even if it's produce in the far east. it feels strong and not heavy like a common house brick.
Now well here a tricky part for me, this reel has a dual casting brake, which is magnetic and centrifugal so I'm already baffled on how I'll come around setting it up, but on the plus side I'll be likley fishing with a lad next week and hopefully he'll be able to show me the ins and out with this dual casting jibber jabber & it should add an extra string to the bow.
well, that very promising,i have a good feeling it'll be a fine reel for me when I'm chucking lures along the tow-path.
Lets see how it feels on the rod,..................................................................
I've loaded it with 30lb power pro braid
Well it feels very well balanced on the rod (savage gear butch light),
not too heavy like I say but just right,
I'll be getting out for Thursday to try it out. But i feel it's only fair to have a full review after next weeks session with a friend & a few banked fish (hopefully),
Till next time,
Alex,