Well I finally managed to remember my password to sign back into blogger, I had forgotten it!.
Anyway down to business, I hope your all well and happy with the festive season now over........
Before Christmas I managed a couple of trips, one with the PAC and the others were down the 'cut'(canal). I managed to bank squat in the last of the trips in 2011, although I did have a follow on a maximouse, which is made by Dave Greenwood (DGLures).
Before the festivities began I started to get myself a small lure kit together, I wanted something for chucking mepps style spinners and small plugs, for which I had in mind for targeting other predators such as chub,perch and anything other that will take the bait.
The rod is a 'geologic trout exactly'(Made and distributed by Decathlon from what I'm told.) at 7ft in length rated from 3g up to 12g this seemed ideal, it came to my possession as an impulse by from
e
B
a
y
,
The reel that is now paired with the rod is a shimano exage 2500FB(2010), I had been on the lookout for one for a while but with shimano having a newer model (FC) for 2011 it was a waiting game... once again
e
B
a
y
came to the rescue.
The lures well... I'm starting to build the collection , my local provides with some lovely small cranks & poppers made by wychwood & at 5 for a tenner its a bargain! I also have others too..... I had heard of the 'Bill lewis Rat-L-Trap lure' but yet to experience it so I asked around, wondering if they would be worth adding to the collection...... well positive replies came back so i ordered half a dozen in 7g(1/4oz), just to start me off in the collection.
Line and terminal is nothing special....the braid is the usual for me..... power pro but in 'phantom red and at 20lb breaking, trace wire is some calibre tackle wonderwire in 15lb, it's a nice little kit to get me started with the lighter lures.
Had a quick afternoon's session with the new kit......... I felt in a bit of a p*ssed off mood this morning so I though I'll brave the weather and a bit of fresh air will do me good. Well the air was certainly fresh... the wind was up and the gusts were almost knocking the rod out my hand whilst I'm attempting to cast.. it all calmed down for a good couple hours, and it helped too. I was really having fun with the new rod and reel, casting with the rod requires no more than the flick of a wrist. with a bit of patiences, discipline(lost a lure to a tree) and concentration the lures were hitting the water right where I wanted. After walking & casting down a stretch of the canal, I headed back up to my starting point stopped of at a peg that has produced in the past and well.... you won't believe it!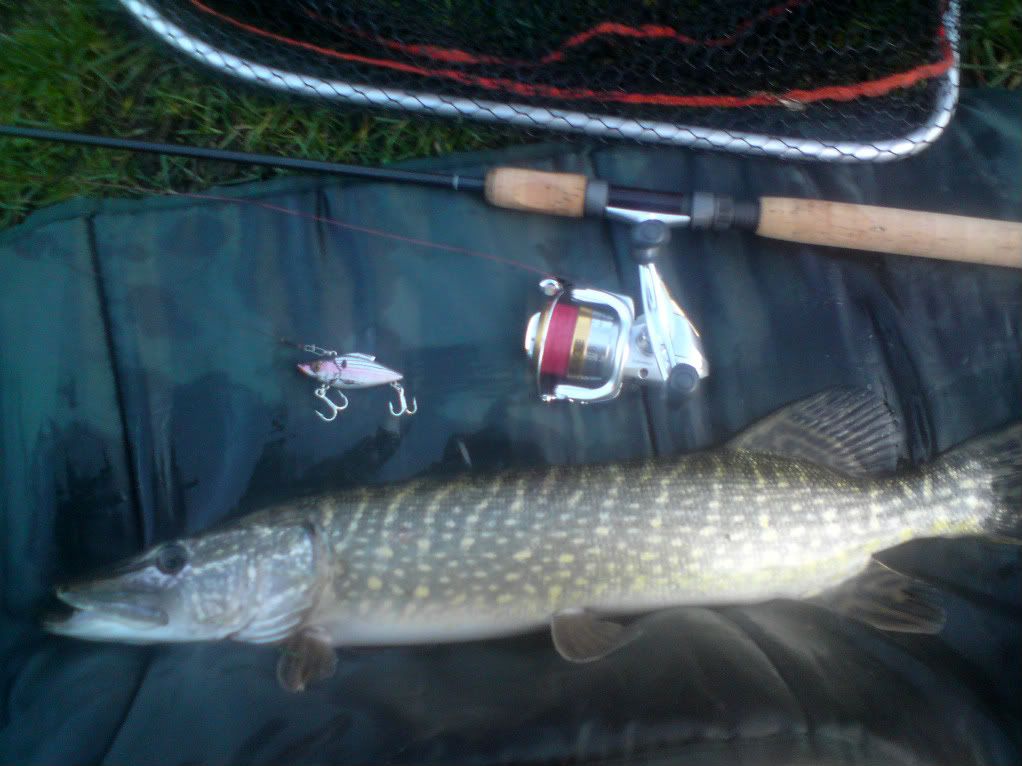 First cast with a 'Bill Lewis Rat-L-Trap' in silver shad pattern, I thoght i caught an underwater snag (with all the wind causing debris) but no, a nice jack of 4lb took off with a attitude of a bull. My heart was racing due to a fewfacts.......
- First fish of the new year,
- On light lure tackle
-On a brand new lure that i have never used........
my heart was piratically beating like a mouses....... my drag was set spot on and the fish was soon in the net....
All in all an enjoyable day, first one of the new year and hopefully many more to follow...
Alex,