Finally, all this snow-sludge-compact ice has melted away here in Nott'm, although the snow is nice when its 'snowing' it isn't when its settled and then turned to compact ice.
so i managed to get a session planned for today, chucking lures as usual but I today had that eagerness in me, I woke up around 6:30am filled up on the breakfast. (Bacon buttie and a mug of strong tea)
After filling up I stepped outside the door at around 7:15am making my way to the train station to catch the train and onwards to the canal,
On arrival I got myself set up and cast the first lure out.
it was a ''swimming raider'' lure that
Recently I had won with £100 worth of lunkermania lures curtsey of the LAS ( Lure Anglers Society) competition, but unfortunately I done a error cast and the tail ended up breaking off whilst the lure being smashed against a brick wall.
''Never mind nothing lasts forever'' I thought to myself which changing lures to a lunkermania diving minnow (crankbait), after the swap around i made my way towards the Trent, stopping off at any place that my produce a fish or two.
Well two certainly ticks the category for follows, 1st happened as I lifted the lure out for a recast, and the second seemed to have had a great interest in the lure but nothing of a hit ever occurred.
once at 'Trentside' I had a couple of casts into the river, and thought to myself the conditions are not 'right for fishing' a steady flow and a bit of colour had made me head back onto the canal.
halfway up I sent a quick message to our trentpiker to know if he's en route to meet up for a couple of hours. Whilst waiting around I had a couple of ducks around, so I though it'd be a fantastic opportunity to play around with the camera,
so away I went taking pictures of the feathered kind.... (I'm quiet happy how these turned out...)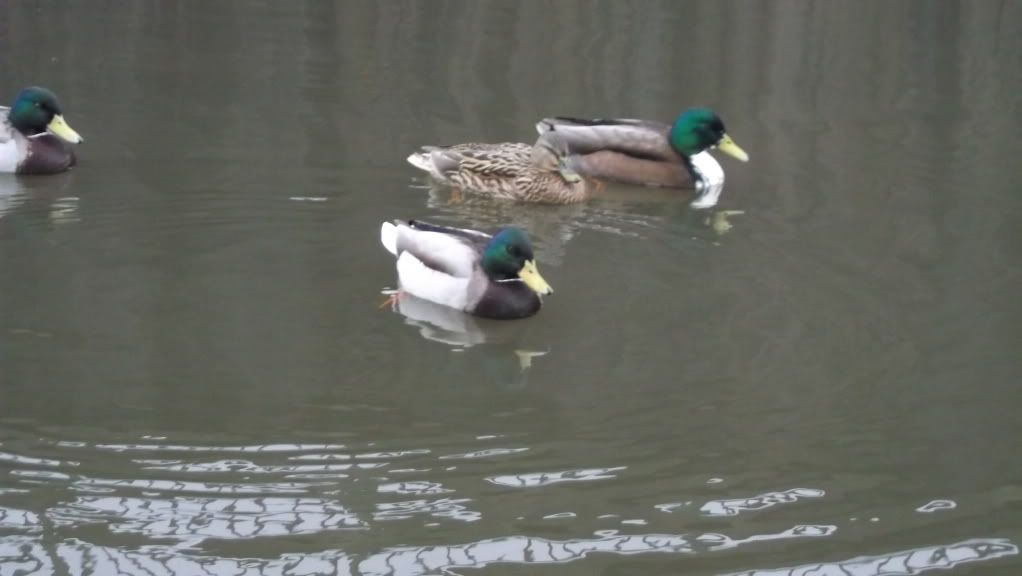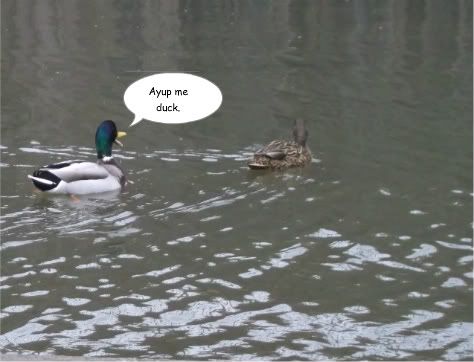 after around 5 minuets of watching this group of ducks, there was a commotion ''quack-quack-quack''
on observation it appeared that another group of ducks had entered the area, and the first group appeared rather unhappy with their presence, What happened for the next 10mins seemed of a verbal turf war between the two groups, I thought ducks were friendly to one and other? whilst it surprised me I found it rather funny. what's next? ''Ross Kemp goes to Nottingham with 'DUCK TURF WARS' to see the lifestyle of two rival 'duck' gangs in a urban canal'' soon enough they quietened down
Dazz finally turned up and we both made our way to the local supermarket, I was in need of a quick bite and a drink whilst stopping off at a few pegs to have a cast on the way, surprisingly not a single sign of life up the stretch.
We did however got offered a 'top of the range £300 bike' for £50 by a couple of lads but we kindly refused, then a girl slightly intoxicated & around my age stopped us both and told us that she caught a fish with whiskers from the canal.
Whilst Dazz got a few items for shopping I filled up with much needed refreshments, we headed upwards again to try another section of the canal,
well 2nd peg i stopped at produced a small perch (more than welcome) that followed the lunkermania diving minnow and at the last moment took a lunge for it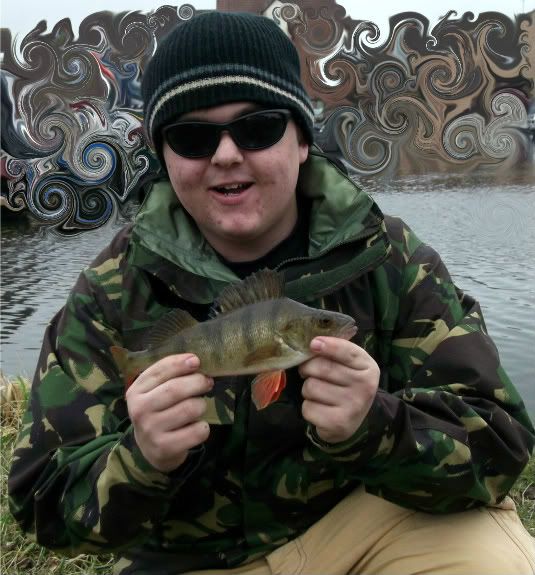 I was chuffed, it was the first fish out of the section we had attempted a couple time before. Whilst I was fumbling around in the bag, Dazz had a quick cast with my gear and a Mark Houghton spinnerbait (even though he tells me they don't interest him), no word of a lie first cast and he's into a fish! and i hear''Alex get the net'' upon dipping the net into the water, we both had a good glimpse of the fish, it must of been a nice young double, although we were in distance for landing the fish it somehow managed to shake the hook free.
Much to dazz's heartbreak and disappointment, I felt it would only be fair to let dazz keep the spinnerbait.
(so Dazz if your reading I hope you do have plenty more fish like that with it)
a while later with no more signs of fish, we both decided it'd be time to split up head home
that just about sums today's session up,
Till next time,
Alex,